How good is your sneaker game? Can you tell a real from a fake? Test your knowledge with Real Vs Fake Air Jordan 5 Retro Off-White.
Real Vs Fake helps sneaker novices and veterans alike better understand shoe quality, construction and authenticity. Moreover, it's a fun way to keep collectors from spending real money on fake shoes. For this round, we take a look at the Air Jordan 5 Retro x Off-White dropping for All Star Weekend.
Retailing for $225, designer Virgil Abloh kicks off the 30th Anniversary for Air Jordan 5 a rumored 46,000 pairs of his Off-White variation. Here's what to look out for when buying yours.
What to check for…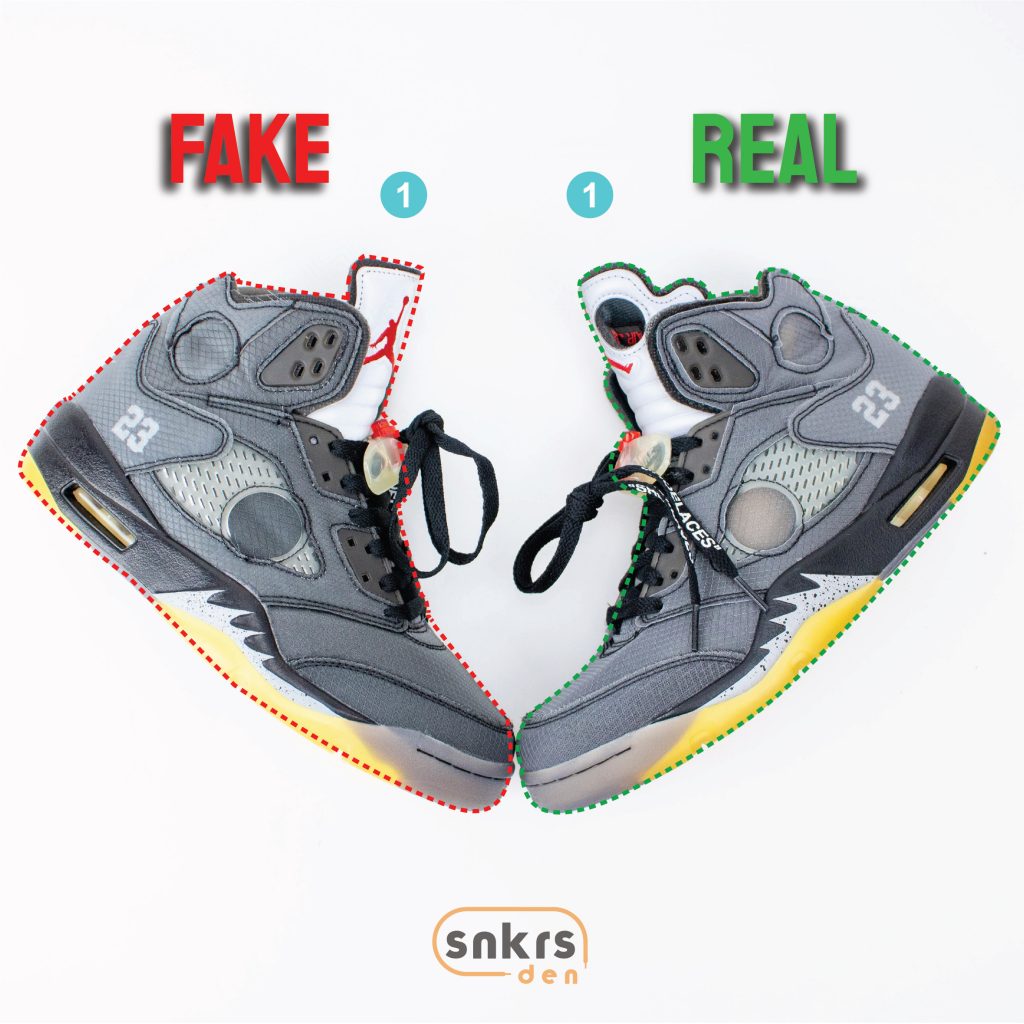 When looking at the silhouette, pay attention to the way the materials bend, flow and form. The real AJ 5 has exaggerated curves on the tongue, collar and overlay panels.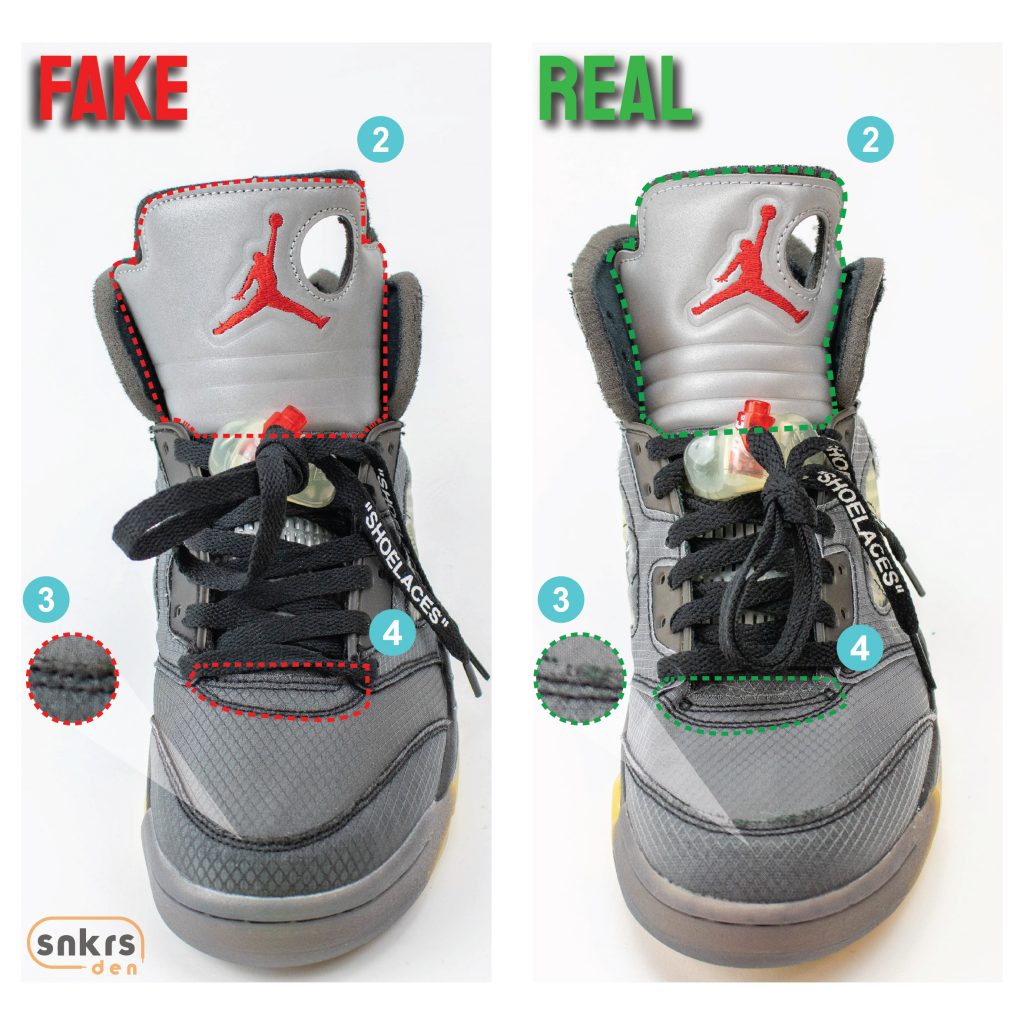 The 3M reflective tongue has defined ribbing before hitting the throat as well as debossed Jumpman branding. The fake just doesn't match up. The shape, size and width of the mudguard panel varies from Cop to Copy. This has a lot to do with the stitch work: clean and tight on the legit, rushed and rough on the faux. One look at that vamp stitching and it's obvious where you stand. Not only is the artificial Air Jordan 5 Retro using a different threading method, it's completely asymmetrical.
Round 2…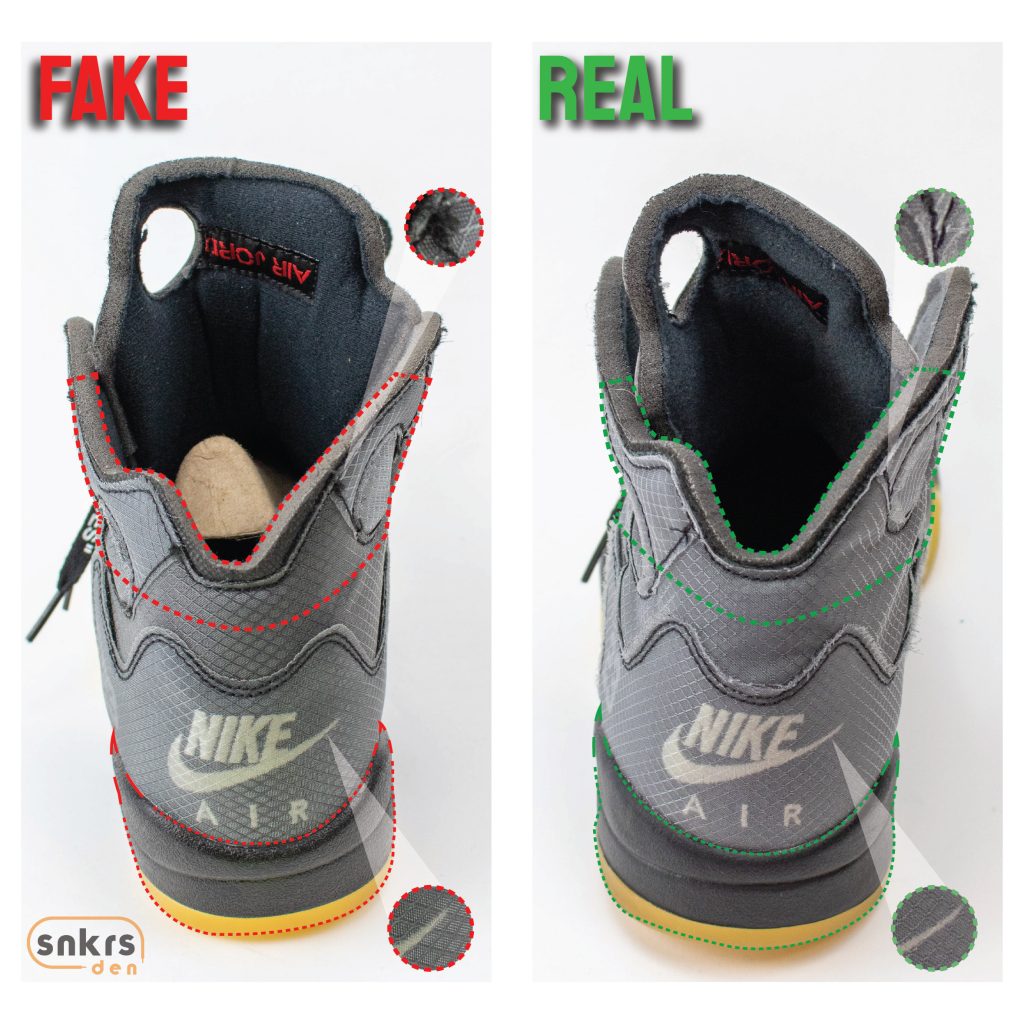 We talk about the stitch work on overlays a lot, but for good reason. The legit Air Jordan 5 Retro has a cleaner finish on its threading. The way the collar is molded effects the silhouette of the sneaker. The fake comes off less form fitting. Heel counter shows off the suede upper's Silver industrial pattern. However, the knock-off has uneven rhombi while the real upper has equidistant shapes. Nike Air is known for their midsole cushioning. It creates a snug fit to the heel and absorbs force. The artificial AJ 5 Off-White has a smaller midsole and has an asymmetrical lean to the inside of the shoe.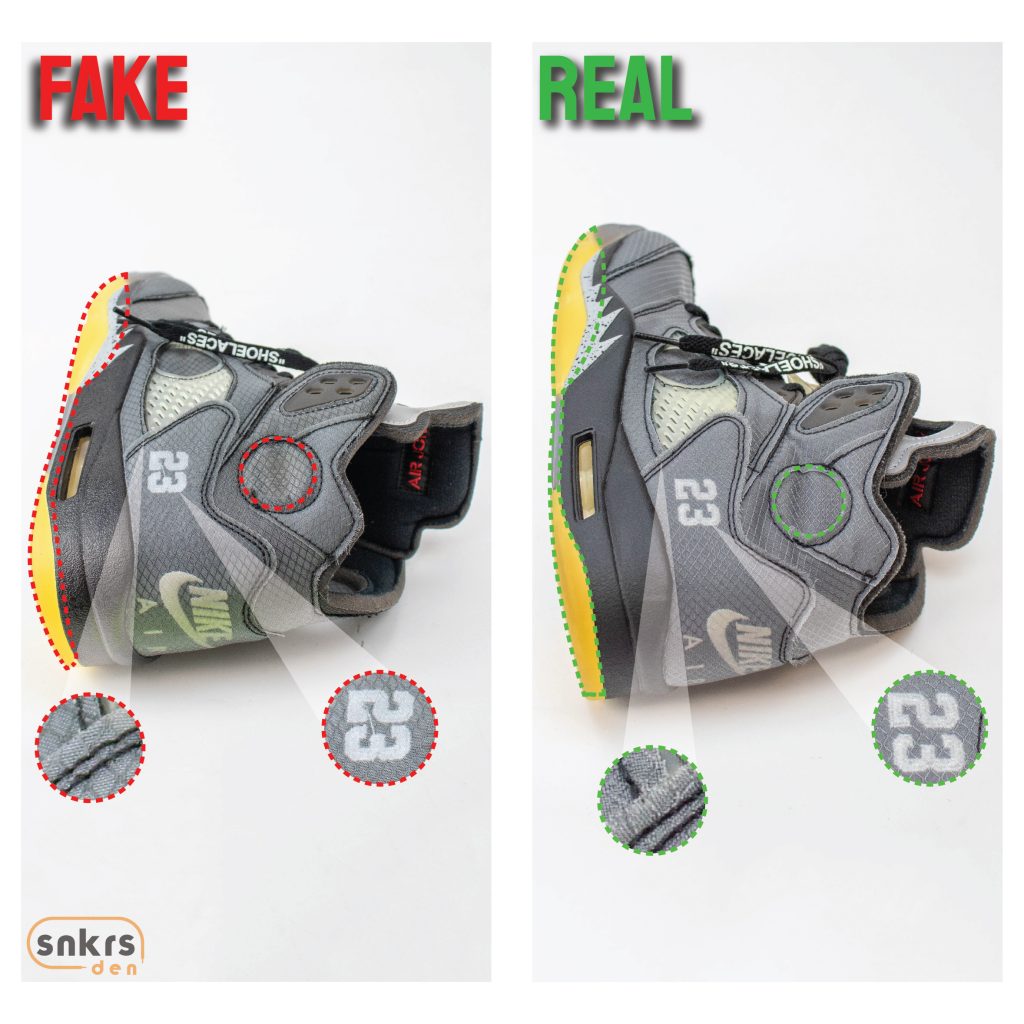 Below the midsole, the translucent rubber outsole is evenly laid on the official Off-White. The copy shrinks at the midfoot and as it approaches the heel. TPU mesh circle overlays on the quarter panels are made using 3M materials. The imitation sneaker is missing those details. Stitching on the true heel counter overlay has straight threading. Meanwhile, the bogus heel counter threading appears bumpy. Finally, the "2" and "3" branding on the ankle are independently stitched on the actual AJ 5 Off-White. Threads connect the numbers on the forgery.
So, did you get them all? What would you like to see us cover next? Let us know in the comments below and be on the look-out for the next round of Cop Vs Copy.